Running from the 14th till the 20th August 2018 Afternoon Tea Week celebrates the time old British tradition of afternoon tea. Afternoon Tea Week is now in its 8th year. Enjoy this event around Northumberland and Scottish Borders this week.
His-TEA-ry of Afternoon Tea
Tea has been drunk, and enjoyed, in the UK since the 17th century. With over 60 billion cups of tea consumed annually[1], it's no surprise that any event including tea is so popular.
The ritual of taking tea has been popular in Britain since the marriage between Charles II and Catherine of Braganza, a member of the Portuguese Royal Family, who brought tea with her as part of her dowry[2]. From then on, teas popularity grew to become widespread throughout the upper echelons of society.
What we know now as afternoon tea, is a result of the 7th Duchess of Bedford, Anna Russell. The Duchess complained of a 'sinking feeling' in between meals and requested bread and tea in the mid-afternoon. Dinner was often served late in the Victorian times, usually 8 or 9 pm[3].
The Duchess invited friends to take tea with her and a social event was born. This was in due part, that her friend was Queen Victoria, an influential supporter of the custom[3].
As the custom gained popularity among the female upper classes, the demand for tea accessories also increased. Fine bone china sets, linens and silversmiths started producing tableware specifically for this light meal. Tea was not cheap, and neither were the tea service additions. Tea services were passed onto the next generation showing they prided their material goods.
Tea was usually served in the Ladies Parlour on low tables; hence the name low tea. Anna Russell is renowned for pioneering the afternoon tea movement, a ritual that has been going for over 170 years.
Tea for All
Tea became more accessible, and cheaper, as a result of the botanist, Robert Fortune, who found a way to grow tea on a large production scale in the British colony of India. Tea was very expensive, and European traders were to follow strict conditions in obtaining the commodity. The disputes between the Chinese and the British ended in warfare, known as the Opium Wars.
Robert Fortune was from Edrom, near Duns, in the Scottish Borders. Fortune had been sent by the British East Indian Company in 1848 in an attempt to discover the secrets of the Chinese tea production[4]. Resulting from Fortune's expedition to China, in disguise, he discovered how intensive, and time-consuming, tea production was. Fortune's claim to fame is stealing samples of tea seeds to plant in India.  This resulted in China losing in the monopoly of tea production throughout the world[4].
"I do not know anything half so refreshing on a hot summer's day as a cup of tea; I mean pure and genuine as the Chinese drink it, without sugar and milk, It is far better and much more refreshing that either wine or beer."
Robert Fortune
Taking Tea Terms
Low tea is afternoon tea. Low tea is served at low tables, such as a coffee table, and on low chairs. All the foods served are small nibbles so you don't need cutlery. Low tea is often served on tiered cake stands.
High tea is traditionally a more filling affair. It is served at the dinner tea. High tea was a hearty meal served after a days work. The working classes generally dined on cold meats, various meat filled pies and the classic meat and potatoes dishes. The working classes had no need for superfluous snacks. We now know high tea as 'teatime' or 'tea' in a dinner sense and tea is not necessarily served.
Simply put, a cream tea is with a pot of tea with a scone. The scone is usually warmed and accompanied with cream and jam. There is a debate about whether you put cream or jam on first.
What can you expect when served Afternoon Tea?
Whether hosting your own or going out to be served, here's what to expect at an afternoon tea event.
Alongside a bari brew, you can expect to be served small, often crust-less, sandwiches. Fillings range from cucumber to ham and smoked salmon. Scones are a must and should be accompanied with clotted cream and jam. Small cakes and pastries are also presented. In true modern form, the mini-meal has become more superfluous with additions of prosecco, champagne and gin.
Afternoon Tea, although frivolous, allows to escape to times past, and experience the rituals of those before us.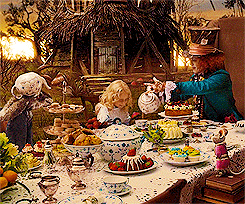 "Would you like an adventure now, or shall we have our tea first?"
Alice in Wonderland
Pause for tea
Make your afternoon teas a thorough border affair. We have so many wonderful producers who can supply treats for your own Afternoon Tea celebrations all around Northumberland and Scottish Borders. Check the foodful directory to discover the goods you'll need to host your own afternoon tea party including bakeries, tea and coffee producers, and sweet treats.
"There are few hours in life more agreeable than the hour dedicated to the ceremony known as afternoon tea."
Henry James, The Portrait of a Lady